Kiribati United Church Brass Band were our guests at a Welcome Service on Sunday 9th December at Wingham Uniting Church.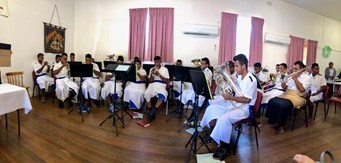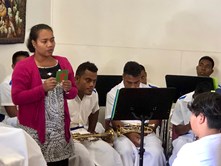 The band  arrived in Australia on 6th December and are staying at Tirrintippin homestay at Elands. There will be a number of concerts by the band over the month they are staying in the area.
They are playing at the Elands Christmas service at 9am Sunday 16th December. Then on Sunday evening some members of the band will be playing 2 items at Marlee Carols by Candlelight. 
On Sunday 23rd there will be another Christmas concert at Wingham Uniting Church commencing at 9am. All welcome
On Sunday 30th December they will be at Forster Uniting Church commencing at 9am and
on Sunday 6th January 11am at South West Rock Uniting Church.
.